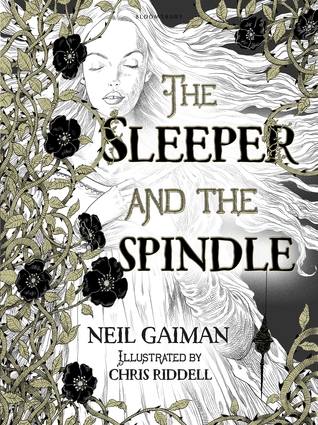 Whenever I think of excellent wordsmiths, Neil Gaiman gleefully comes to mind. There is something beautiful about his prose, how it lingers and create shivers down your spine. The Sleeper and the Spindle is no different – plus it comes with some awesome illustrations!
The Sleeper and the Spindle is sort of a fairytale retelling, accessible to many ages, about a Queen on a quest to break a 100 year old sleeping curse. We are led to believe this is a mash up of two popular fairy tales, Snow White and Sleeping Beauty.
But what I really enjoyed about this story was how it played with the fairytale genre. Key elements are still there; the sleeping curse, magic, a princess, a quest and a kiss. But it's not about true love and all that jazz, but rather I think, about understanding what you want and is the path you are down now – the one you truly want to be on? An important theme to explore, I believe.
And also a woman saving another woman?! How cool is that!
The illustrations also add another great dimension, they are somewhat comical yet harrowing at the same time and it really fits the tone of the story.
And although I haven't read many of Neil Gaiman's works, only Neverwhere, The Ocean at the End of the Lane and this – this is a story I would recommend to those who want a good starting point. It's a story I can read to my younger cousins whilst enjoying the experience at the same time. A win, if I must say so.
This is a story for Neil Gaiman lovers, for fairytale aficionados, for children and adults and all those who want something light, introspective and charming.
I give The Sleeper and the Spindle 3.5/5*